With the CBD industry booming, there are a lot of brands out there that can't live up to the hype they create around their own products. Luckily, Sol CBD, a family-run and quality-oriented company, isn't one of those.
Sol CBD has been on the market for quite some time now. What's more, it has been leaving a trail of satisfied customers in its wake for years. That's why we decided to take the brand out for a spin and give you a comprehensive Sol CBD review. The brand claims to offer an excellent product with fair prices. So let's take a look if their CBD oils, edibles, and topicals pass muster.
Behind the Scenes at Sol CBD
Cleverly constructed from the founders' initials, Sol CBD is already a trustworthy name on the market. It's a product of eight years of hard work of Oksana and Larry Ostrovsky. The duo began their story with a health blog almost a decade ago. Their ultimate goal was to try and educate people regarding CBD.
However, it wasn't until 2015 that the dynamic duo founded Sol CBD. One health blog turned into two, then two turned into a few personal development pages, and before anyone knew it, Sol CBD was born.
The best part about the brand is that both owners are fully involved in it. That's a true testament to a family-run business that's all about the client's needs.
Because the couple is all about transparency, education, and raising awareness, they promise complete honesty to their clients. What's more, they put their clients' well-being above anything else (even profit). That's why they offer full transparency. The ultimate hope (or better said, goal) is that each client can make an educated decision for themselves instead of being swayed by marketing or sales language.
The sentiment sure is nice. But let's dive a bit deeper into our Sol CBD review to see if it has merit.
First Impressions Matter
We must start our Sol CBD review with a first impression. When we take a more in-depth look into Sol CBD, we can see that they didn't forget their own wow of transparency. They offer their clients access to test results of all their products. That's, of course, a great thing and a huge plus. After all, you can go around shouting that your product is entirely hemp-derived and pure, but unless you have the papers to prove it, you won't be in business for long.
Furthermore, because they claim to be so concentrated on educating people, it's no wonder that their customer service is on point. They are always available and open to any questions a (potential) client may have.
However, the prices are a bit steep. Although we understand that a family-run business can't be the most affordable out there, we also realize that the price may be a stumbling block for some customers. Still, given the quality of the product and the way Sol CBD treats its clients, prices are more than justified. What's more, the brand offers free shipping for purchases over $75.
Sol CBD Review — Products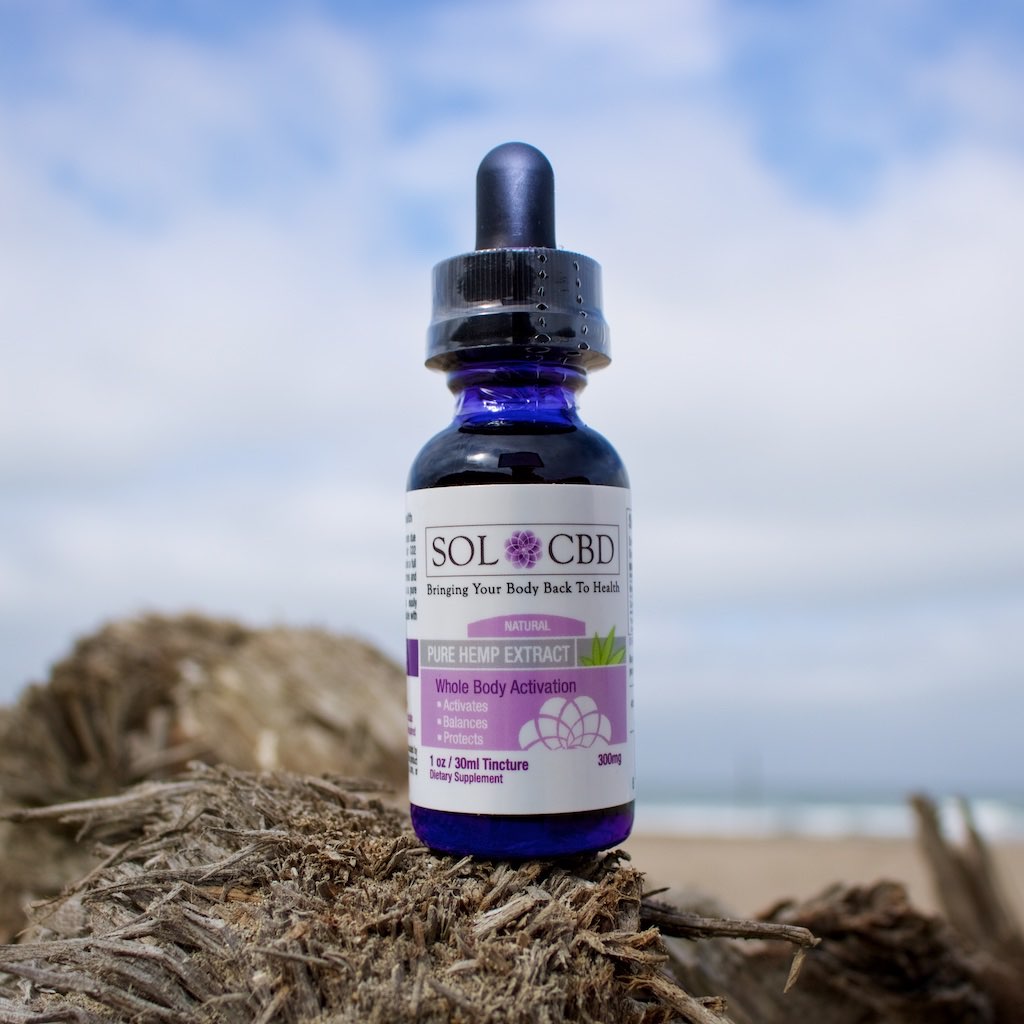 Official Website: www.solcbd.com

CLICK FOR BEST PRICE
Tincture Oils
Sol CBD claims that their tinctures aid with:
Boosting the immune system
Treating chronic pain
Reducing inflammation
Reducing stress and anxiety
Improving the sleep cycle
Because they strive to provide a product fit for everyone's needs, Sol CBD has two types of tinctures — a 300 mg bottle and a 3,600 mg bottle. Each of these comes with a dropper (a 1-ml one for the former and a 2-ml one for the latter).
The 300 mg bottle is the standard tincture product that comes in two flavors. You can take your pick between natural and cinnamint. The latter is somewhat a weird combo but not too shabby if we do say so ourselves. Each bottle has 16.7 mg of CBD and around 60 servings. That gives you around 5 mg of CBD per serving.
However, if you need something more heavy-duty, then the 3,600 mg bottle with 50 mg of hemp per bottle might be better suited for you. This product has 240 servings and 15 mg of CBD per serving. It can alleviate pain even for patients with severe conditions, and some also claim that it can entirely substitute pain medications.
The smaller tincture costs $65 per bottle, but the price goes down if you're willing to buy in bulk ($124 for two and $174 for three bottles). The same goes for the bigger tincture, where one bottle costs $327, while two and three bottles cost $618 and $867.
Capsules
When you don't want to be bothered with droppers and measurements, CBD capsules are the best way to go. Being an easy product to use when you're on the go, Sol CBD capsules are convenient and comfortable.
However, keep in mind that Sol CBD only offers one dose, and you should start with one capsule per serving. With this manufacturer, you will get capsules with 15 mg of CBD per capsule, which isn't ideal for first-time users. But the capsules are the easiest way to make sure you're getting a precise dose every time. Every Sol CBD capsule bottle has 30 capsules and costs $69. Again, the prices go down if you buy more bottles, so two cost $129, and three cost $179.
Even though the price is a bit steep, the capsules contain full-spectrum CBD oil that's made from organic, domestic hemp of the highest quality. What's more, Sol CBD is adamant of their use of the CO2 extraction method, which diminishes the chances of any impurities in the oil.
Topicals
Sol CBD has a CBD herbal balm and a CBD skincare line of topicals. Although the herbal balm is their biggest seller, the skincare line has also been an enormous hit.
The balm has herbal oils and CBD oil, as well as vitamins E, D, and C, as well as Omega 6 and 3 acids. The product is a great choice not only because it combats the signs of aging but also because it can alleviate muscle and joint pain, inflammation, and skin irritations.
The balm costs $47, while the skincare line is a bit more expensive. It promises stellar rejuvenating results, but the Nourish formula will cost you $69, while the Extra Care formula will put a more significant dent in your budget as it costs $89. Again, just like with all other Sol CBD products, buying in bulk will make the individual products cheaper.
How Can I Get Sol CBD Products?
We recommend buying the product straight from the source. Because the brand is so devoted to its clients, you'll have nothing but positive experiences with their customer service. What's more, if you buy via their website, you'll get free shipping for purchases of over $75.
The Final Verdict
We can't help but wrap up our Sol CBD review on a positive note. As a brand that's always growing while still trying to provide the highest quality products with the best quality-price ratio, Sol CBD definitely passes the muster in our book. Hopefully, this Sol CBD review will help you make an educated decision about the brand.
Pros
Reputable company
Top quality products
Legal in all 50 states
Won't make you feel high
Free shipping in the USA (over 75$)
Rewards program
Cons