Focused on improving both the physical and mental well-being of their clients, Green Roads has made an excellent name for itself on the market. A company that was born out of necessity and built on personal experience, it has risen through the ranks on the CBD market rather quickly.
To start our Green Roads review, here's a bit of backstory. Back in 2012, two friends came together in hopes of curing an ugly disease that is prevalent but not commonly talked about. Namely, one of the Green Roads founders, Arby Barroso, started using opioid-based painkillers after surgery and couldn't get rid of them. A tale as old as prescription meds birthed a personal mission, and Arby and his friend Laura Baldwin Fuentes sought an alternative, healthy, and non-addictive means to painkillers. That's how Green Roads was born.
Once they figured out how to help Arby, they didn't want to stop there. They wanted to spread joy and knowledge and help millions of people who were in the same or similar predicament as Arby was. But back in 2012, CBD wasn't as prevalent on the market as it is today. So it took a few years of research and perfecting the product for Green Roads to get where they are today — a staple product in over 10,000 stores.
What Makes Green Roads Special?
Aside from being born out of necessity, Green Roads is also a brand that is famous for its unique extraction method and its extensive product selection. Although they started with the full-spectrum CBD oil, Green Roads now also sells:
capsules
topicals
terpenes
syrups
gummies
teas and coffees
CBD products for pets
The wide product selection also offers a variety of prices. Thus, buying a Green Roads product can cost you anywhere between $27 and $209. The price and the product, of course, depend on the type of problem you're looking to solve.
No matter what you choose, you can rest assured that it'll be top-notch. The product quality is essential to Green Roads as they employ third-party labs to test everything the brand makes. Since they are firm believers that honesty is the best policy, the founders of the company are always looking to be as transparent as possible. That's why all test results that prove the purity of their product are readily available to all clients.
What's more, as a nice bonus, all of their merchandise is made by licensed pharmacists in clean rooms (IS06 clean rooms), which contributes further to the overall quality.
First Impressions Matter
Overall, we can both start and finish our Green Roads review on a positive note. For starters, the brand is trying to be completely honest. Of course, they are looking to make a profit, but they also seem genuinely concerned about the well-being of their clients. That probably has something to do with the backstory we mentioned and the fact that the company was built on personal experience.
Green Roads offers a fantastic quality-price ratio. Given that their products are top-notch, they sure have affordable prices. What's more, as a general rule, the company has discounts, promotions, and sales quite frequently, which means that almost anyone can afford to be their client.
What Made Us Look More Than Once
Aside from the price (which isn't a small selling point), the products are stellar. Green Roads offers both pure and broad-spectrum CBD products. All their CBD goodies are pharmaceutical grade and a product of 20 years of experience. With a resume like that, it's no wonder that Green Roads is a titan on the CBD market.
Because they take a holistic approach, the brand is determined to offer the best experience to each of its clients. The company motto is that body and mind are interconnected and that one can't work correctly if the other doesn't. With that in mind, they strive to offer not only a product that will resolve one acute issue but products that will make people happier and that will promote healing.
We can see their need to help others and heal their minds and bodies in each interaction with their clients. However, their participation in projects that deal with veterans and help them heal after returning state-side is probably the best depiction of this need.
Green Roads Review — Products
Where would our Green Roads review be if we didn't talk about specific products? Although they offer a wide variety, CBD oils and CBD terpenes are the most popular of the bunch. What's more, all their products have a wide selection when it comes to potency. That really drives home the attitude that Green Roads offers something for everyone.
Both variations are incredibly effective, especially considering that the sublingual use offers the fastest results.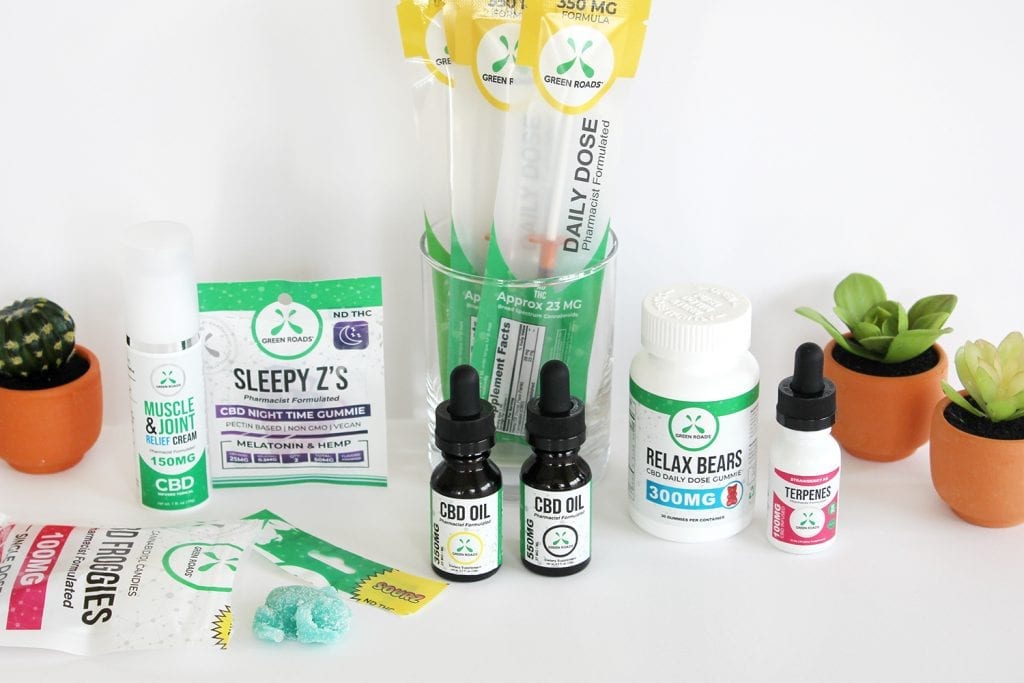 Official Website: www.greenroads.com

CLICK FOR BEST PRICE
CBD Oils
Green Roads CBD oil bottles come in various sizes:
100 mg
250 mg
350 mg
550 mg
1,000 mg
1,500 mg
Although they don't offer monster potencies like some other brands, as you can see, Green Roads provides broad scalability when it comes to potency. That means both newbies and veteran CBD users can benefit from their CBD oil.
To achieve maximum results, you should first determine what dose works best for you. That will depend on the problem you're experiencing and the results you're looking to achieve. After you figure that out (with the trial and error strategy), you should take the dose twice a day. Depending on the dose and the potency you need, CBD oil will cost you between $29 and $209 per bottle.
CBD Terpenes
For those looking to bank on the entourage effect, CBD terpenes offer quite a kick. You can choose between different popular cannabis strains:
Pineapple Express
Sour Diesel
Blueberry OG
Original Nectar
Strawberry AK
Each bottle costs $26.50 for 100 mg and $53.95 for 300 mg of broad-spectrum CBD oil.
CBD On the Go
Never the ones to be called boring and predictable, Green Roads always tries to offer something new to its clients. Constant progress is their motto, after all. So that's how CBD On the Go was born. For $5, you can have a daily dose of CBD in a syringe that you can easily carry around and that has 50 mg of CBD.
CBD Gummies
Recently, the most popular CBD product have been gummies. Yummy, colorful, and tasty, CBD gummies are ideal CBD edibles. They are bite-sized, convenient, and pack quite a punch. You can choose between 25, 50, 100, and 300 mg packaging that cost between $4.95 and $43.95.
The Final Verdict
The innovation, determination, and dedication are what sets Green Roads apart from the competition. Their quality-price ratio is definitely the star point of this Green Roads review. However, we can't help but mention the wide selection of products as well as potencies available. As a good fit for everyone, Green Roads has earned its title of an excellent CBD brand.
Pros
Reputable company
Top quality products
Legal in all 50 states
Won't make you feel high
Rewards program
Award winning products
Cons