Small but mighty, Premium Jane is a brand that will soon be everyone's top choice on the market. It hasn't been around long, sure, but that doesn't mean it isn't fighting tooth and nail for its place under the stars.
Coming out of the left field (or better said, Scottsdale Arizona), Premium Jane is a brand that's making a name for itself by using high-quality, organic, domestic hemp. The company tests both the soil and the products diligently to make sure that everything that the customers receive is top-notch.
Unlike some other small companies, Premium Jane isn't trying to make it big quickly. They have a decent quality-price ratio and are working on achieving glory on the market by providing the best service they can. The responsive and helpful customer service and an informative and educational blog are testaments to that fact.
In our Premium Jane review, we'll look into the company and the products they ship out to see how they fare on the market.
Who Stands Behind Premium Jane?
With just over a year and a half on the market, Premium Jane managed to perfect several different products:
CBD oils
capsules
gummies
topicals
bath bombs
A team of farmers, chemists, agricultural experts, and biologists are trying their hardest to deliver a stellar product. Premium Jane doesn't have any medical staff, though. Therefore, they don't have the advantage some other companies have. Still, that doesn't stop them from delivering what they promise.
Promoting relaxation, rejuvenation, and revival as their company motto, Premium Jane uses domestic, Kentucky-grown hemp to make all their products. The small Arizona company also invests in its products quite a bit as it uses top-notch labs to test its products. What's more, it is also big on transparency as it makes the results of said testing readily available on its website.
First Impressions Matter
Overall, to give you an honest and comprehensive Premium Jane review, we'd have to wait a bit for more customer feedback to pile in. However, given that the product quality really is exemplary, we decided to dive in right away. Even though it's a newbie on the market, Premium Jane already has a lot going for it.
Unlike many other brands that source their hemp in Colorado and Europe (or even Asia), Premium Jane has an agreement with the Kentucky Pilot Hemp Farms. That means it has access to first-class hemp that ensures a top-notch product, which is the finest CBD oil.
Furthermore, the product that Premium Jane signs its name under is undoubtedly potent, effective, and beneficial. There are a lot of companies that are flooding the market with bogus cure-all products that turn out to be nothing more than snake oil. Luckily, Premium Jane isn't such a brand. Its products are beneficial, therapeutic, and above all, effective. Therefore, it's no wonder that they are also tasty and fresh.
Premium Jane can guarantee quality thanks to the low-temperature CO2 extraction method it uses and the extensive testing process that follows it. What's more, the testing is done in reputable ProVerde labs that have merit on the CBD market.
Premium Jane Review — Products
Currently, Premium Jane has only five different products that we already mentioned. However, given their rapidly growing popularity, we're confident that will quickly change. Innovation is a necessity in the CBD market, and Premium Jane will inevitably introduce more products soon.
Furthermore, Premium Jane offers both isolate CBD products and full-spectrum ones. Combined with the fact that all of these come in a wide variety of potencies definitely speaks highly of the brand's versatility.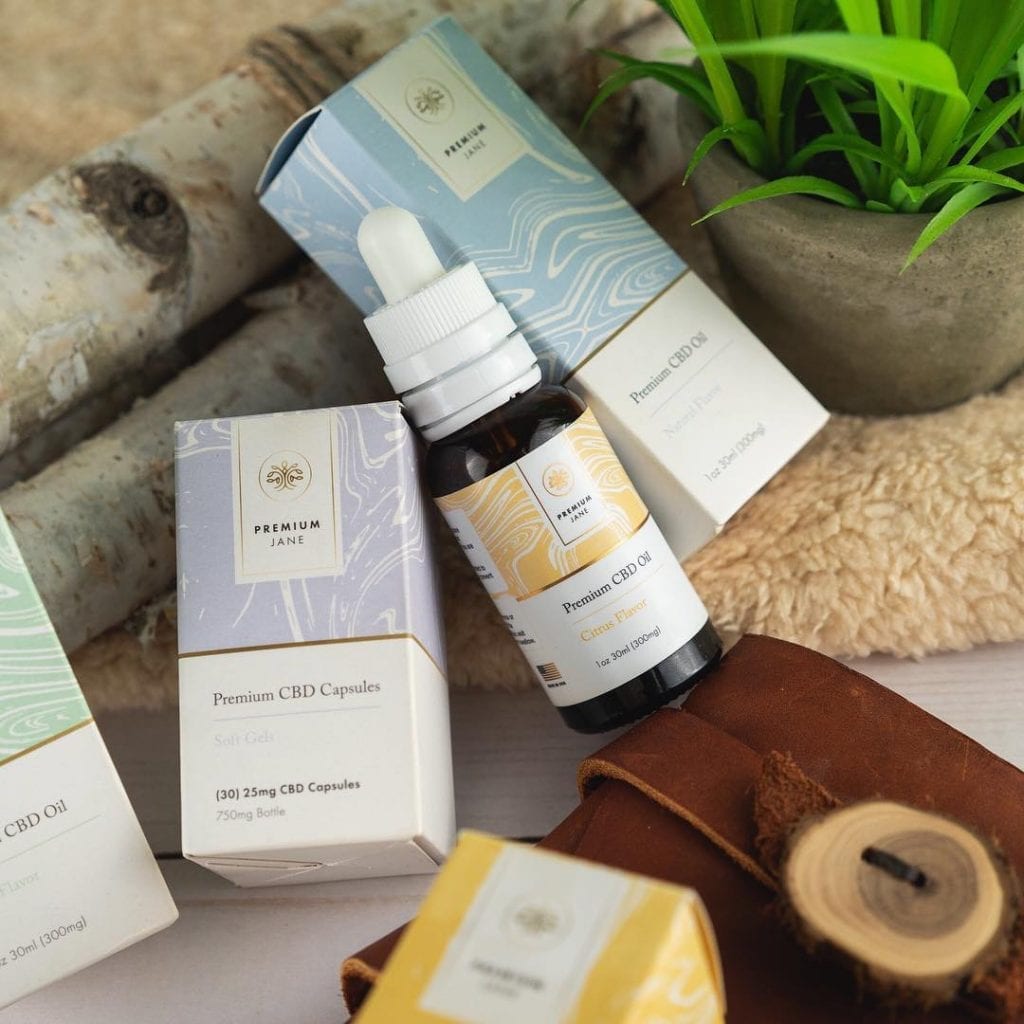 Official Website: www.premiumjane.com
Tinctures
Full-spectrum CBD oil comes in three different variations when it comes to potency. That is an excellent feature because it means that everyone can find a suitable product in Premium Jane's ranks. You can choose between the 300, 600, and 1,000 mg bottles. What's more, you can also pick a flavor. Keep it natural with the Natural Hemp flavor or refresh your palate with a speck of Citrus or Mint.
Depending on the potency you need, Premium Jane CBD oil will cost you $48, $85, or $124 per bottle. That is an affordable price compared to the other brands' pricing, especially considering the quality.
Capsules
Premium Jane doesn't offer much variety when it comes to soft gel capsules. They have one product available — the 750 mg bottle that has 25 mg of CBD per capsule and costs $75. With 30 capsules in the bottle, this price is more than fair.
Topicals
Premium Jane has a great CBD salve in its product selection that comes in two different variations. You can choose between a 1,500 mg salve and a 750 mg one. Apart from the potency, these two also differ when it comes to scent. Cocoa butter is quite stronger than the eucalyptus one. Furthermore, both balms are safe for full-body use and have numerous therapeutic properties. They are also excellent moisturizers! Depending on the strength you're interested in, a Premium Jane salve will set you back either $75 or $125.
While on the subject of topicals in our Premium Jane review, we have to mention the amazing bath bombs. For a bit under $11, you can get one of the five different bath bombs that have 100 mg of CBD in them. These will surely take your relaxing bath to another level.
Gummies
Unlike the rest of Premium Jane's product, the gummies are made with CBD isolate. That means there are no traces of THC in them. With 25 mg of CBD per gummy, 750 mg per bottle, and 30 delicious snacks per bottle, the gummies are a plentiful product. They are also quite affordable, given that they cost only $55.
The Final Verdict
Premium Jane is on an excellent road to becoming one of the big names on the CBD market. Although it isn't the most versatile brand out there, its quality-price ratio is exceptional, as is its dedication to providing the best possible service to the clients. Overall we have to declare this Premium Jane review a positive one. We're looking forward to seeing what this little Arizona-based company will do in the future.
Pros
Reputable company
Top quality products
Legal in all 50 states
Won't make you feel high
Free shipping for all products
Cons