Most of the conversation about the legalization of medical and recreational marijuana seems to revolve around THC, the main psychoactive ingredient of the plant. However, we're much more interested in seeing what CBD, another cannabinoid compound, can do for us. To that end, we're going to talk about one of the brands that are trying to make the most of this hemp extract: Endoca.
In our Endoca review, we're going to discuss the company and its products, with a focus on their hemp oil drops. After all, CBD oil can be used in many ways to resolve many different ailments. Primarily, though, it's been shown as an effective treatment for chronic pain, movement disorders, and anxiety. Research has also shown that CBD can even improve cognitive function.
Overwhelmingly, the evidence seems to indicate that Cannabidiol gives us all of the advantages of ingesting marijuana without the possibility of a bad trip. In fact, it shouldn't affect mental function at all. All of these facts make us even more excited to analyze one of the most popular brands in the business — so let's get into our Endoca review.
Endoca Review: About Endoca
Endoca was founded by Henry Vincenty, who's been working to bring CBD to the masses since he was studying Biotechnology and Genetics at the University of Copenhagen. Vincenty is a humanitarian and a great believer in holistic medicine.
Most of all, he believes that all companies have a responsibility to their consumers to move to a more sustainable production method. That belief is also evident in the primary principles of Endoca as a brand.
All of Endoca's hemp is completely organic, vegan, and non-GMO. For a global brand, they do seem to be about as transparent as they come. We invite you to review their official website, which is full of information about CBD and other cannabinoids.
Additionally, one of the things we were particularly pleased with is the fact that the company is also present across social media. For example, they have a fairly active YouTube channel they use to talk about their products and their effects. In fact, they'll even teach you how to make CBD oil in your own kitchen.
Endoca Review: The Products
Now that we've talked about the company, let's talk about the products themselves, starting with their most famous one.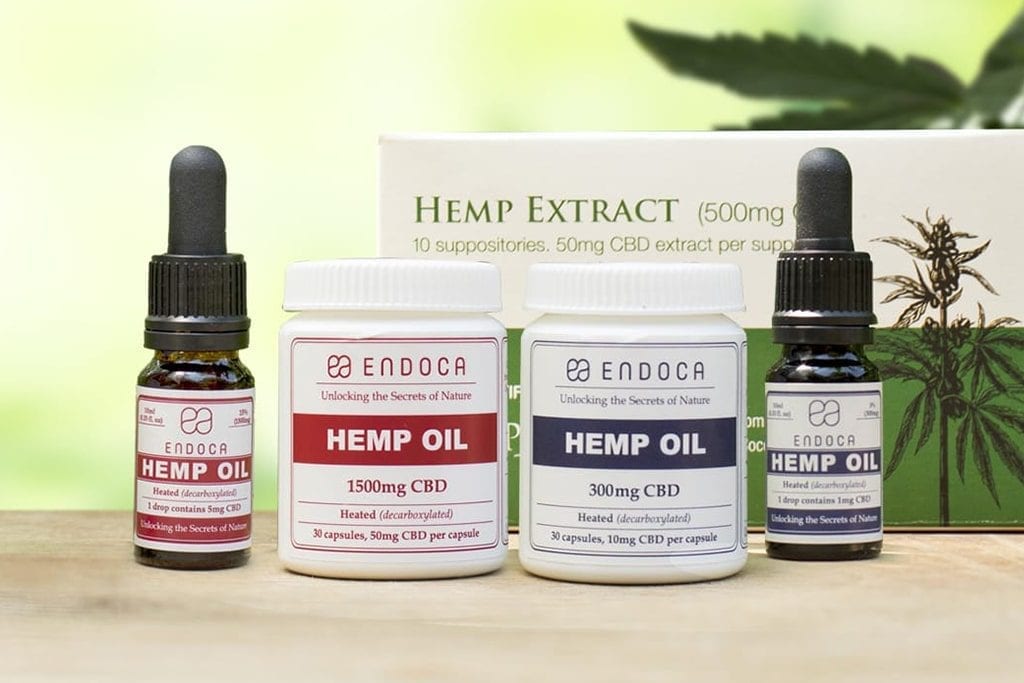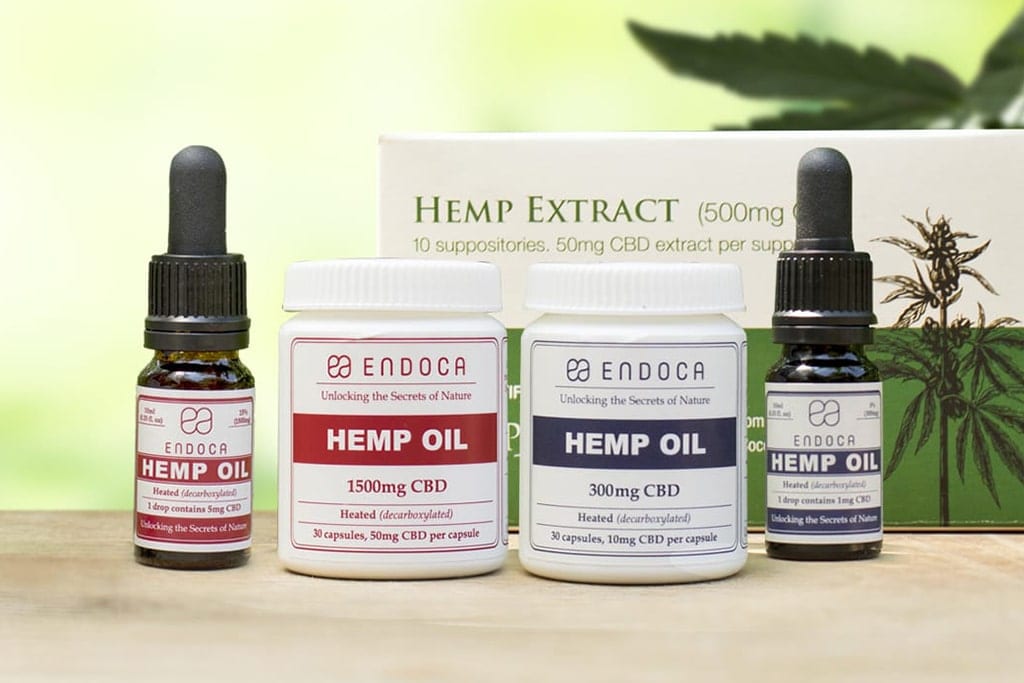 Official Website: www.endoca.com

CLICK FOR BEST PRICE
CBD Hemp Oil
Endoca's hemp oil products all come in 10 ml or 0.33 fluid ounce bottles. The containers are all made of almost opaque dark glass, which protects the quality and longevity of the oil inside. They have two versions of the product:
300 mg (3% of CBD)
1500 mg (15% of CBD)
The Endoca CBD hemp oil is all produced using CO2 extraction which allows it to retain all of the natural vitamins contained within the plant. In addition to regular hemp oil, the company also offers RAW hemp oil. Although not many brands offer it, RAW hemp oil is different than regular hemp oil because it also contains CBDa — the even more effective acidic companion of CBD.
A single drop, conveniently dispensed through the dropper in the cap of the bottle, can help to balance the body. It can help users regulate their eating and sleeping habits and be generally more relaxed.
Hemp Oil Capsules
Endoca also makes hemp oil capsules which essentially have the same properties as their liquid hemp oil. You have the 300 mg CBD capsules and 1500 mg ones — both of which come in a pack of 30. These capsules are vegan and gluten-free, like the oil, and they're also Kosher.
Skin Care
As we have mentioned, the topical application of CBD can also bring about some fantastic benefits due to the antioxidant content. Endoca has three skin care products in their lineup:
A Salve that contains 30 ml or 1 ounce of product (750 mg CBD). Vitamins E and D, as well as the Omega 3 contained in the salve, make it excellent for treating wounds and painful areas.
Their Whipped Body Butter contains 100 ml or 3.3 ounces of product (1500 mg of CBD). Naturally, this product is a bit more moisturizing for everyday use. It contains similar ingredients, although they are processed using different technology.
Finally, they also have a lip balm which contains 4.25 grams or 0.14 ounces of product. The product has a weaker CBD content of only 20 mg per tube, but it still effectively treats dry lips.
And More
Naturally, there are many more products in Endoca's extensive lineup. They have a hemp oil extract or paste, CBD chewing gum, and CBD suppositories. You can even purchase their pure CBD Cannabis Crystals and make your own hemp product.
Final Thoughts On Endoca
That concludes out Endoca review! Overall, Endoca seems to offer quite the impressive range of products. They all seem to be very high-quality. It's particularly assuring that the company makes all of their quality reports easily accessible on their website.
Looking at the company history and the products they offer, we can only conclude that the people behind Endoca are truly passionate about solving all ailments through a healthy and holistic approach.
Hopefully, all of this answers the question we posed in the title of our Endoca review. Endoca is about as legit as they come. Of course, this comes as no surprise, considering that we're talking about one of the most popular CBD manufacturers in the business.
Pros
Reputable company
Top quality products
Legal in all 50 states
Won't make you feel high
Cons