If you haven't yet heard of Elixinol, our Elixinol review will cover everything you should know about this amazing CBD company. The company has been around for nearly three decades, spreading awareness about the healthy lifestyle with hemp – long before anybody else was. Elixinol is truly a veteran that has become a top dog in the CBD industry. And we don't see it going anywhere else anytime soon!
History Of Elixinol
If you live near a growing city, you'll probably find a couple new holistic and smoke shops popping up over the next year. It's great for our market and a wonderful way to live more natural and healthier lives, but this reality is big thanks to companies like Elixinol.
Elixinol is a Colorado-based health company that was founded in 1991 by current CEO Paul Benhaim, who has been involved in the hemp industry since the 80s.
When traveling in his youth, Benhaim became disgusted by our heavy dependence on single-use plastics. He was exposed to hemp, a natural and protein-filled plant that could also be used as a biodegradable material.
Benhaim created a nutritional bar made from hemp in the United Kingdom which was chockful of omega-3 and omega-6 fatty acids. At first, the production was slow, but it quickly skyrocketed to millions of bars being sold per year under several food label companies.
Benhaim wanted to help the world realize that a healthy lifestyle could be achieved without compromising cost and unwanted side-effects. So, he founded Elixinol with the vision to provide the highest-quality hemp and CBD-based products.
The company has been wildly successful since it formed and has a consistent reputation for providing high-quality and products.
Aside from what they deliver, the company is also honest – 5 percent of every purchase is donated to a charity of your choice, with picks like AutismOne, Wounded Warrior Project, The Cancer Cure Foundation, and others.
Elixinol Review – Elixinol's Products
Elixinol has one of the biggest varieties of CBD oils and other hemp products of all providers. They offer 10 types of products within the medicinal and beauty realms – and something for your furry four-legged friend, too.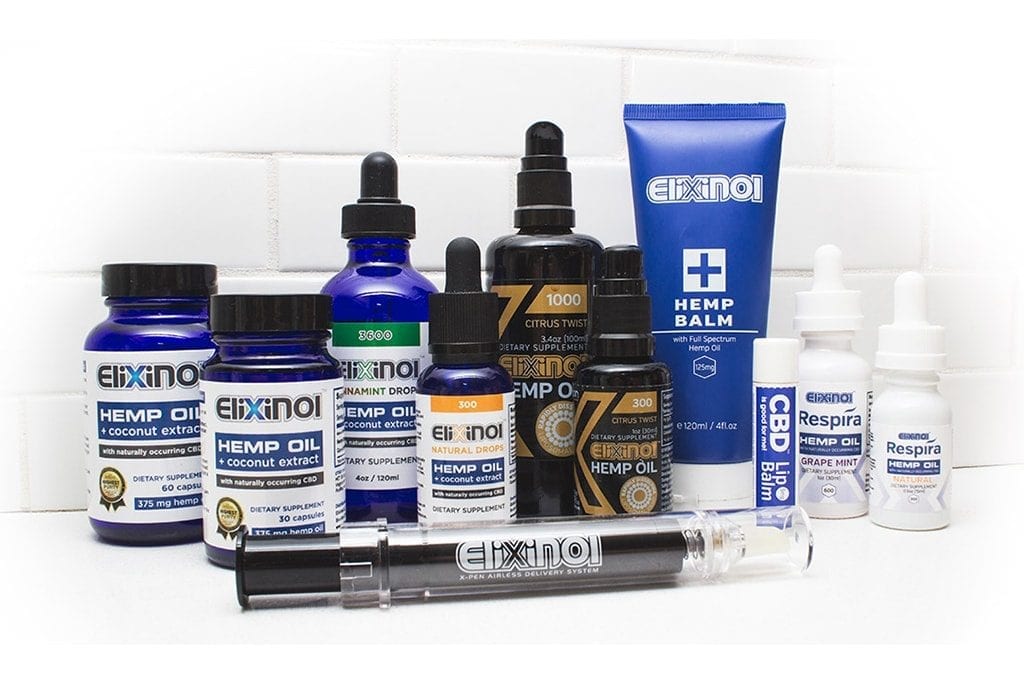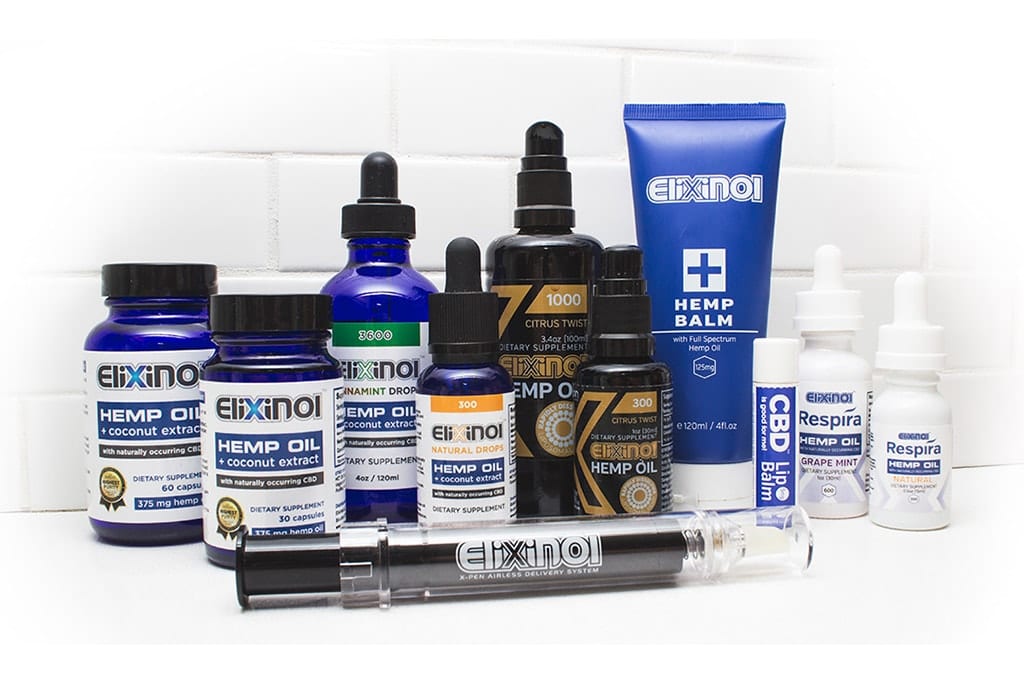 Official Website: www.elixinol.com
Elixinol Review – CBD Capsules
The CBD capsules come in two kinds of bottles with either a 450 or 900-count of CBD per bottle. The 450 bottle has 30 capsules and the 900 has 60 capsules. It is recommended that these are taken with a glass of water once or twice daily.
Hemp CBD Oil Tinctures
CBD tinctures are great for adding to food and drinks. Most users use the recommended dose (with the small dropper) and add it to their teas and soups. These come between 300mg and 3600mg with "cinnamint" and "grape mint" flavor – or if you prefer, the natural flavor.
Hemp CBD Oil Liposomes
Similar to the regular oil tinctures, liposomes are a product with an enhanced formulation which improves the absorption of the oil. It is water-soluble so it can be taken with a glass of water.
Water-Soluble CBD Powder
There are three options: Create, Build, and Dream. The Create line increases focus and boosts your energy. Build leaves you energized and far from the midday slump, and also helps you recover faster from heavy workouts. Lastly, Dream is a non-addictive caffeine-free rest aid.
SATIVA
SATIVA is Elixinol's skincare line with a decent variety of products, such as facial cleanser, shampoo, conditioner, moisturizer, hand cream, body wash, serum, and deodorant.
New Respira Versatile CBD Tinctures
New Respira Versatile is Elixinol's newest tincture formula that can be mixed with water, food, or taken plain orally. There is 300mg of oil in a 15-gram tincture.
Elixinol CBD Topical Balms
The topical balm products are small – so far, Elixinol only has a body balm and a lip balm. They are non-greasy with a neutral, pleasant aroma, and is guaranteed to fix chapped and dry skin.
X-Pen
If you're curious about vaping, then consider the X-Pen which comes with 1000mg of CBD hemp extract. All in one oral applicator, you can get your dose of CBD anytime and anyplace.
Elixinol CBD Dog Treats
Created by veterinarians and a professional chef, these "Pet Releaf" treats are holistic-certified and great for dogs who may experience joint paint and/or anxiety and stress. Best of all, they come in a variety of flavors for your picky pup.
Hemp Seeds and Protein Powder
Hemp protein powder is a great addition to your protein shakes when you're headed to the gym or preparing for a hefty workout. It tastes great, is only made with one ingredient which is organic hemp, is vegan, and mixes easily.
Why Elixinol CBD?
As pretty as it looks on the outside, the truth is that you are purchasing products that will go directly into your body. The most important question is: Can I trust this brand?
Elixinol promises that with each product, the manufacturers check that all of its CBD oils are free of pesticides, mycotoxins, and heavy metals, and their oils are made out of only the purest strains without any synthetic additives. Certificates of Authenticity are always readily available.
Elixinol is a long-standing company with a positive outlook to educate people about the holistic alternative to prescribed painkillers and mood enhancers. It's not new to the CBD game but will clearly retain its success for years to come.
Pros
Low price
Legal in all 50 states
Won't make you feel high
Cons