Everyday stress is enough. We don't want to worry about health-related issues such as achy joints or sleepless nights. Addressing such common concerns is why millions are flocking to CBD products. It's the exact reason why Joy Smith, founder of Joy Organics, started her CBD oil business.
After discovering CBD was the answer to her restless slumbers, Joy decided to share her discovery with the world. Her passion drove Joy to partner with local hemp farmers in her Colorado community. Now, Joy Organics produces a line of full spectrum hemp oil products. In a market growing more competitive, let's see how Joy Organics measures up.
Joy Organics Review – What Makes Joy Organics Different?
When Joy first heard about CBD, she sampled many products. Notably, only one seemed to do the trick for her, showing her that the industry desperately needed companies that meant what they said about their products. When she started Joy Organics, she was determined to create the best THC-free, full spectrum CBD products that actually do what they're supposed to.

Full spectrum hemp oil means that the entire plant was used during the process. Not only is this a more sustainable practice, but it actually strengthens the formula.
Hemp leaves, stems and seeds all have different nutrients. By including all of these plant nutrients, the final product will have a more diverse number of cannabinoids. As a result, the formula has increased bioavailability and nutrition.
What Is The Joy Organics Process?
Joy Organics creates high-quality full-spectrum hemp oil through a 7-Step process.
1. Cultivate Organic Hemp
Joy's brand lives up to its name by working with hemp farmers in their local Colorado community. Using organically grown hemp is essential for creating a potent CBD oil. Otherwise, the artificial ingredients may cause an adverse reaction with the CBD molecules. This could weaken the potency of the product.
2. Raw Hemp Processing
After the organic hemp is harvested, the plant matter is cured and dried. The flowers are stored in a climate-controlled warehouse until they are ready for processing. When an order is processed, the plant matter gets ground up. The coarse powder is then shipped to the Joy Organics processing lab to turn into products.
3. Oil Extraction
Joy Organics uses state-of-the-art equipment to extract their oils. They use two processes to create the products in their line. They are:
CO2 Extraction
Food-Grade Ethanol
Both methods are deemed safe for human consumption. In addition, these methods preserve as many terpenes and cannabinoids as possible.
4. Product Distillation
At this point, the cannabinoids are stripped from the solvent. In the case of CO2 extraction, carbon dioxide is slowly removed from the atmosphere and recycled for future use. For tinctures, the food-grade ethanol is heated away from the terpenes and cannabinoids.
5. THC and Plant Matter Removal
When you extract CBD oil, there is a lot of excess material in the formula. In particular, you have:
Chlorophyll and wax can ruin the color and flavor of the final product. There may be some benefits to having these plant materials present in the formula. However, they don't add enough benefits to warrant ruining the flavor and appearance.
Hemp plants technically have no psychoactive side effects. However, Joy Organics goes the extra mile by removing any traces of the cannabinoid behind those feelings… THC. All of Joy Organics products contain no THC, making these products legal in all 50 states.
6. In-House And Third-Party Testing
While hemp is legal in America, CBD products are yet to be regulated. Unfortunately, some products may not be all they claim to be.
Joy Organics tests each batch they formulate for purity. Their company has a third-party check their credentials. They have a record of every trace mineral in their final formula and can supply these reports to customers upon request.
7. Nanoemulsion Technology
The most impressive step of the Joy Organics process is the last one…nanoemulsion technology. The CBD particles in their softgels range from 25 to 60 nanometers. This is in comparison to other CBD products on the market, which falls within the 150 to 5000-nanometer spectrum.
Joy Organics uses this cutting-edge technology in their softgels because it increases bioavailability. These tiny particles are able to bypass stomach acids and get into the lower GI tract and intestines. This will allow for lasting relief throughout more areas of the body.
Joy Organics Review – The Products
While the CBD market is still in its beginning phase, Joy Organics already carries a diverse line of products. Let's take a closer look at some of their most popular items.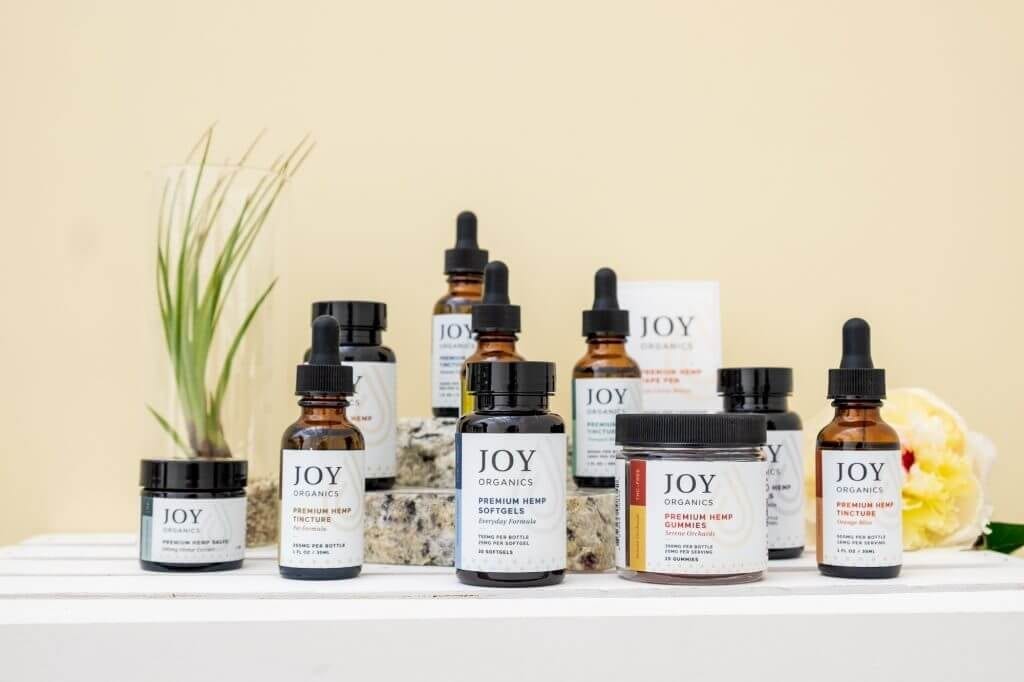 Official Website: www.joyorganics.com
CBD Tinctures
This might just be our favorite, which is why we're showcasing them first. CBD tinctures are highly concentrated CBD drops. We love them because they are easy to use and they taste great. You just place a drop under your tongue, hold for 30 seconds and swallow.
Joy Organics CBD Tinctures come in four flavors:
Original
Tranquil Mint
Lemon
Orange
If the taste is too strong for your taste buds, they mix well in waters, tonics, salad dressings, and lotions.
CBD Softgels
These are a more traditional method of supplementing with CBD. Here, CBD oil is encapsulated in an edible shell. This takes a bit longer for the results to kick in, but it's the most natural way for people to supplement as the process resembles taking a vitamin.
What makes Joy Organics stand out with softgels is their microemulsion technology. Since the CBD particles are so small, they will break down slower. Not to mention, they will reach more areas of the body.
CBD Vape Pen
Vaping is growing in popularity. Why not vape your CBD? Joy Organics CBD Vape Pens are very discreet. You can use them openly in the public without anyone assuming there is hemp in your pen. Plus, it has a slight citrus flavor. Can't go wrong with that!
CBD Salve
For those experiencing joint pains, Joy Organics produces a CBD salve. This is a great way to get almost instantaneous relief. As you rub the salve into your joints, the CBD will penetrate your skin. Also, CBD is an antioxidant. Therefore, CBD salves can help you recapture your inner glow!
CBD Pet Treats
Last is certainly not least here! We love our pets. That's why they should get the best care available. Joy Organics makes that possible with their line of pet treats. These treats are manufactured to adhere to the package's serving size. This is done so you can carefully monitor how much CBD your fur baby receives.
Joy Organics Review – Would We Recommend It?
CBD products are becoming more common and we are lucky to have caught on before the market became watered down. Thankfully, we discovered Joy Organics.
From start to finish, we agree with their business ethics. Joy Organics use organically grown hemp and cutting-edge technology to create high-quality, full spectrum, THC-free CBD products. We highly recommend Joy Organics to anyone new to CBD or those who are looking for a new supplier.
Pros
Reputable company
Top quality products
Legal in all 50 states
Won't make you feel high
100% money back guarantee
Free shipping in the USA
Cons