NuLeaf Naturals review – Colorado-based NuLeaf Naturals is considered one of the oldest players in the cannabidiol (CBD) oil market. The company is a pioneer in the premium CBD product sphere.
The company had an interesting start. Since its founders were originally in the plant and medical botany industries, they got a head start into the business domain before the CBD market actually boomed in the USA. Since then, they've progressed from conducting research to actual CBD extraction of the highest standard. As a result, they make some of the best CBD oils and tinctures available in the market today. Certainly, that's quite a journey, which inspired us to write this NuLeaf Naturals review.
About NuLeaf Naturals
The first thing we'd like to point out in this NuLeaf Naturals review is that the company is a 100 percent US brand. We love the idea of companies that don't source raw materials from other nations.
Furthermore, NuLeaf is one of the few CBD oil manufacturers based out of Colorado. All their operations ranging from cannabinoid planting, farming, processing, bottling, and packaging the CBD oil take place within the state's boundaries. Raw materials are obtained from licensed organic farms. Also, they believe in planting and harvesting hemp outdoors in contrast to a vast majority of CBD companies that cultivate hemp indoors.
Above all, the company's main offices are located in the CBD hotspot – Denver. Consequently, we can be sure that the company is up-to-date on CBD research and development. They are constantly trying to upgrade themselves and stay on top of their game, which speaks to their competitiveness in the market.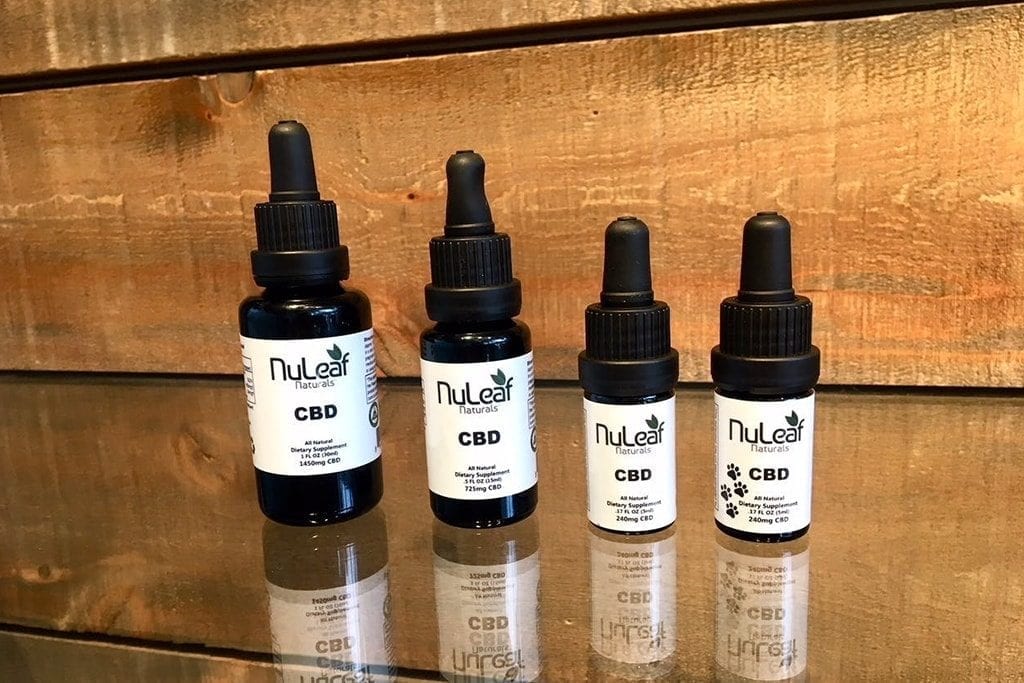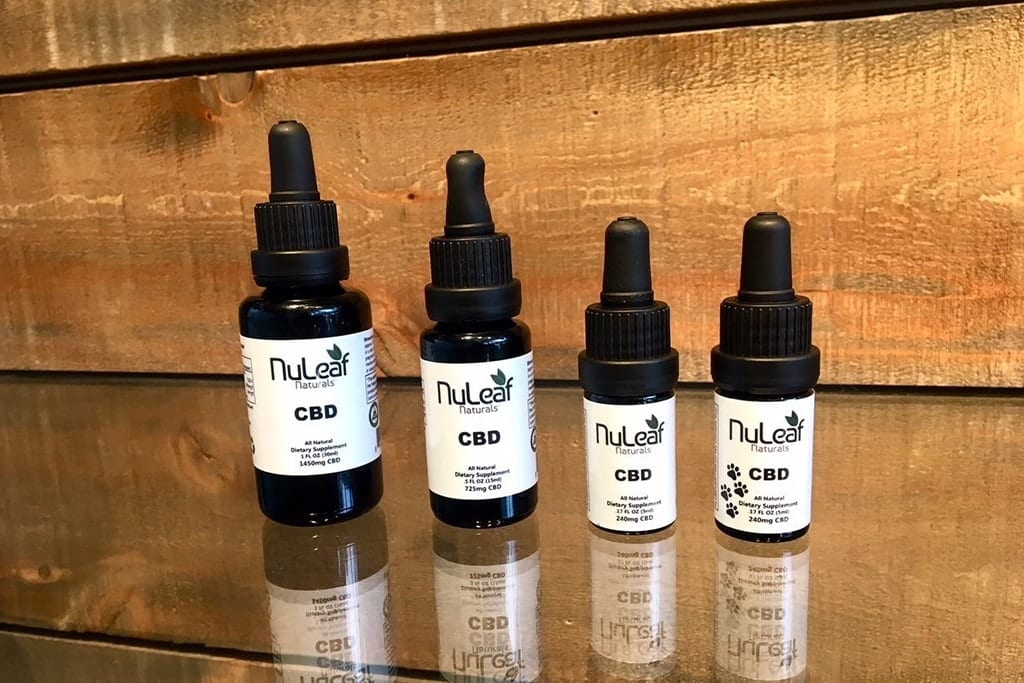 Official Website: www.nuleafnaturals.com

CLICK FOR BEST PRICE
NuLeaf Naturals Review – Pros And Cons
Certainly, NuLeaf Naturals is distinct from its peers in a few ways, which is what puts it at the top of the list of CBD oil manufacturers. But, there's definitely scope for improvement. Continue reading this NuLeaf Naturals review to get a complete overview of the company.
Pros
Presence of retail stores throughout the country
NuLeaf Naturals has a retail presence in many states across the country. No other CBD oil manufacturer that we know of maintains an online database of their products. A customer looking for a certain oil can simply look up the NuLeaf Naturals website. They can browse through the online database and find the nearest store that has the product in stock.
Efficacy of the CBD content
Among all CBD oils available on the market, NuLeaf Naturals offers some of the strongest legal tinctures. The standard CBD oil product offers 2.4 mg of CBD per drop and comes in 240 mg bottles.
On the other hand, the strongest CBD oil offered by NuLeaf Naturals comes in a 4,850 mg bottle that contains up to 2,000 drops. This oil has been used as a treatment intervention for anxiety, pain and sometimes even seizures.
Made in the USA from start to finish
As we said earlier, we love companies that finish the entire production process in the USA. Of course, that does not mean that a CBD oil company's quality should be determined by the geographical location of its operations. It simply means that the company is investing its resources on indigenous produce and is keen on keeping its operations right at home. Undoubtedly, they have to use the best materials, keep up with the latest extraction techniques, and strive to deliver the highest quality.
The unique composition of the CBD oil
To begin with, when compounds are extracted from the raw materials (hemp plants), CBD manufacturers filter out a few of them. In contrast, NuLeaf Naturals preserves the whole extract. They don't meddle with the additional premium whole-plant components found during extraction.
Therefore, NuLeaf Naturals' CBD oils have natural ingredients which add to the nutritional value. Some of these are vitamins, hemp proteins, phytocannabinoids, and terpenes.
Transparent lab testing
To ensure that CBD testing is not tainted, CBD oil manufacturers claim to send their products to a third-party lab. But, attempting to get a glimpse of the lab report is quite a task.
However, NuLeaf Naturals runs a transparent process. The company sends all its extracts to Steephill Labs for testing right after CO2 extraction. So, if we need the lab report on any product NuLeaf Naturals makes, all we have to do is call the Berkeley-based testing laboratory at 720-372-4842. The process is as transparent as it can get!
Cons
If there's anything that would drive people away from NuLeaf Naturals, it would have to be the pricing. The oils are expensive in comparison to similar products made by rival CBD manufacturers. However, buying bundle packs can solve the problem — they are long-lasting and slightly cheaper.
Also, at present, the company offers only oils. The CBD product spectrum consists of a variety of topical creams, vapes, oils, and edibles. Also, not everyone is comfortable with CBD oils since the drops have to be placed under the tongue. Rest assured, if the company decides to expand its offering, we would definitely love to try their products.
Next, the company has an efficient customer service team that can be reached over phone. But unlike some CBD manufacturers, NuLeaf Naturals doesn't offer a standard product guarantee, which is a let-down. A company-wide guarantee gives the customer a sense of assurance.
Nevertheless, if you are looking for a 100% US brand, NuLeaf Naturals is the best option.
NuLeaf Naturals Review – Product List
So, NuLeaf Naturals' flagship product is the standard CBD oil tincture. A single drop of oil is administered below the tongue. Before swallowing, the drop should be held for about a minute. The drops come in different dosages and packs. Here's a list of the CBD oils manufactured by NuLeaf Naturals. Also, all oils mentioned below have a potency of 2.4 mg CBD per drop.
| | | |
| --- | --- | --- |
| Product name | Quantity | Drops |
| Full Spectrum CBD Hemp Extract 240 mg | 5 mL tincture | 100 drops |
| Full Spectrum CBD Hemp Extract 725 mg | 15 mL tincture | 300 drops |
| Full Spectrum CBD Hemp Extract 1450 mg | 30 mL tincture | 600 drops |
| Full Spectrum CBD Hemp Extract 2425 mg | 50 mL tincture | 1,000 drops |
| Full Spectrum CBD Hemp Extract 4850 mg | 100 mL tincture | 2,000 drops |
| Full Spectrum Pet CBD Oil | 5 mL tincture | Contains 50 mg CBD/1 mL of oil |
In Conclusion
Keeping aside the high cost, we loved the CBD oil described in this NuLeaf Naturals review. If you use CBD oils regularly, we recommend that you invest a few extra dollars on high-quality ones. Furthermore, the oils are effective even for chronic and severe pain. And there are bundle packs, which last for months on end, making it worth the money. All in all, a great deal if you ask us!
Pros
Reputable company
Top quality products
Legal in all 50 states
Won't make you feel high
Veterans and retired military program
Low-income program
Long term disability program
Cons
Mixed customer reviews
Premium price