NanoCraft review – a lot of companies out there are offering CBD products. Thus, it's crucial that you research them before committing and buying anything. So, let's see how NanoCraft holds up, shall we?
What Are They All About?
The company has a vast product range. The San Diego-based company offers something for everyone's budget, with prices ranging from $10 to $100. Their selection includes:
Supplements
CBD-infused waters
Soft-gel CBD capsules
CBD oil drops
Our NanoCraft review revealed exciting information. It seems the company is quite inventive. Still, while they do state that they derive their products from organic and GMO-free hemp, they haven't disclosed the exact origins of said hemp. But, they do seem honest in regard to other information. For example, they describe their extraction methods as well as the nanotechnology they use to infuse CBD into various products. Hence the name – NanoCraft.

By only using high-quality ingredients and the CO2 method to treat the hemp plant, NanoCraft quickly became a fan favorite on the market. What's more, their innovative products, such as the CBD-infused waters and other items aimed at athletes, now hold one of the top spots among consumers.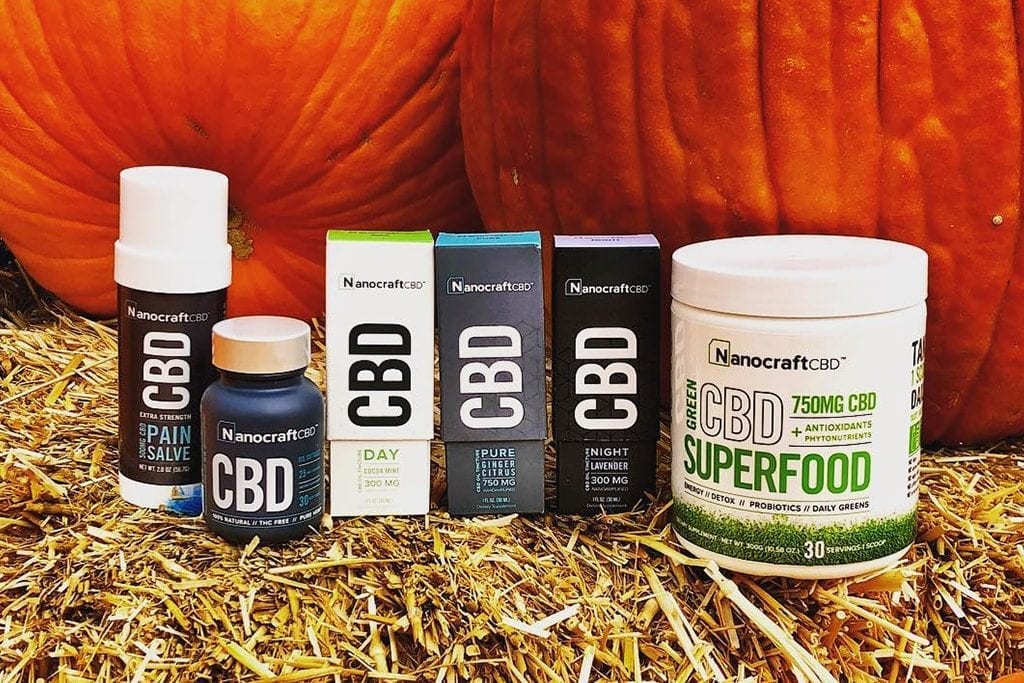 Official Website: www.nanocraftcbd.com
What's So Special About NanoCraft Products?
There are a couple of facts that we can't ignore in our NanoCraft review. This company claims they only offer organic, GMO-free products and that they test them in a third-party lab. However, we couldn't find any studies to corroborate their story, as is the case with many companies. NanoCraft offers the test results on demand, so naysayers can check the reliability of the claims for themselves.
CBD-Infused Waters
The products that pushed NanoCraft on the market are the CBD-infused performance waters. The users praise them both for energizing and recovery properties. What's more, CBD-infused water products can complement any workout regime you might have.
CBD Oil Drops
Top-notch drops with Vitamin E, fatty acids, and CBD improve and promote athletic performance.
Soft-gel Capsules
Ideal both as pre- and post-workout supplements, soft-gel CBD capsules are very easy to absorb. They boost energy, promote muscle recovery and improve overall performance.
NanoCraft Review – A Closer Look At The Brand
NanoCraft started as a pet project of two friends. They wanted nothing more than to promote healthy and strong CBD-infused products. Today, this company is an industry giant. What's more, it's also one of the most innovative companies on the market. NanoCraft uses nanotechnology to infuse products with nano-particles of CBD. That makes the CBD easier to absorb. What's more, it also greatly improves the bioavailability of the CBD.
By creating products for everyone — kids and athletes included — NanoCraft is a consumer-oriented company. Obtaining the CBD oil through CO2 extraction and not using solvents or GMO plants speaks volumes about the company. Our NanoCraft review also revealed that the company claims they never use herbicides, pesticides, or fertilizers.
What's more, not only are their products great, but their marketing and user-friendly website are also fantastic. The site is easy to navigate, provides ample information on all products, and has a fascinating blog section. Not to mention, their prices are moderate as well.
The Pros
Wide selection of products — tinctures, topicals, capsules, and other
Cutting-edge nano-technology
Innovative products
Natural, vegan products
Gluten-free and GMO-free
Guaranteed 30-day return policy
We should also mention that NanoCraft offers regular discounts on their already reasonable prices. They also often have sales and various promotional offers.
The Cons
They don't cater to vapers
They don't ship internationally
NanoCraft Products
Out of many NanoCraft products aimed at athletes and their physiological needs, there are quite a few fan favorites.
Day Formula
CBD Oil from NanoCraft was specially designed for various activities. Day Formula is meant for daytime activities of athletes that include vigorous training sessions. It increases productivity and stamina.

What's more, the daytime CBD Oil formula contains not only CBD but also Vitamin B12 and caffeine. These certainly help with metabolization and generate a significant energy boost. What better way to stay alert and vibrant while exercising, right?

All CBD oil formulas come in 30ml bottles and contain 300mg of CBD. All containers have a dropper for fast and convenient use. For best results, we need to take the drops sublingually.
Night Formula
Unlike the Day Formula, the Night Formula was crafted with recovery and relaxation in mind. That's why they infused lavender essential oil into it. Also, unlike its day-time counterpart, which has a vibrant scent and taste of mint and cacao, Night Formula contains melatonin, which promotes healthy sleep cycles.

With 300mg of CBD, Night Formula aids muscle recovery. Moreover, it also lulls us into the deep sleep state.
Pure Formula
CBD mixed with citrus and ginger — the Pure Formula packs a stronger punch than the other two. With 750mg of CBD oil in 30mg of hemp oil, it helps with more than just sleep or energy. Consumers can also use it as a pain management product. The company recommends that users administer the drops sublingually and wait 30 seconds before swallowing.
Extra Strong Pain Salve Stick
This product is simple to apply. What's more, we can use it for various illnesses or conditions that cause acute or chronic pain. That includes back pain, arthritis, inflammation, etc. It's a fan favorite among athletes. It helps with muscle soreness after a particularly strenuous workout as well as with issues like joint pain and tendinitis.

The pain relief is almost instantaneous. In addition, the salve, made from essential oils, herbs, and 500mg of CBD oil, is easy to absorb.
Soft-Gel Capsules – Full Spectrum
Soft-gel capsules allow easy absorption and increase the CBD bioavailability. The full spectrum effect comes from hemp oil rich in phytocannabinoids — CBC, CBD, CBN, and CBG.

These capsules boost the immune system and promote overall health. Each capsule has 25mg of CBD, and there are 30 capsules in the bottle. Thus, one bottle is enough for one month of wellness, according to NanoCraft.
CBD Supplements
Ideal for detoxing and reducing fatigue, the two types of supplements that NanoCraft offers help the body on a cellular level. We can take them before or after a workout. They alkalize the body, diminishing the fatigue and promoting stamina. In addition, their CBD supplements contain CBD that was extracted from 100% pure industrial hemp.
CBD Waters
Undoubtedly their most popular products, CBD performance waters improve hydration, and they keep the energy levels up. What's more, these waters help the users maintain a healthy lifestyle, and they come in three delicious flavors.
A Few Parting Words – What's The Verdict?
All in all, we'd say the NanoCraft is a real force in the CBD industry. Their products are effective, innovative, and crafted with athletes in mind. You won't regret it if you choose any of their cannabidiol-based products.
Pros
Legal in all 50 states
Won't make you feel high
Free shipping on all domestic orders
Give back program for kids
Cons