Do you dislike swallowing capsules? Are you looking for a convenient option to incorporate CBD in your diet, except for tablets, chewables, and tinctures? NanoCraft softgels could be a great product for you. No more choking, vomiting or gagging as the softgels easily slip down to your stomach, without leaving any awful aftertaste. 

Read on our Nanocraft Softgels Review below to discover more about it.
CBD Softgels: A Quick Glance
Nanocraft CBD basically caters to fitness and sports. The Nanocraft softgel pills are formulated to uplift your mood, shorten recovery time, relieve pain, and nourish your body.
If swallowing pills gives you anxiety, you can opt for CBD softgels as they are easier to swallow. Unlike CBD tinctures and oils, you'll get the exact dosages with these softgels.
Likewise, CBD soft gels give you an odorless and flavorless alternative. They also have longer shelf-life.
Additionally, these softgels look like a usual food supplement, so no friends and colleagues will bombard you with unnecessary questions. You can have these anytime, anywhere.
List of Ingredients
The Nanocraft CBD softgels have simple ingredients that include:
25mg of broad-spectrum CBD
more than 40 synergistic terpenes occurring naturally
grapeseed oil
vegetable cellulose casing
Silica
Water
A single bottle contains 30 CBD softgels. If you go for the curcumin or melatonin softgels; both have the same formula. The only addition is 10 mg curcumin and 1 mg melatonin respectively.
Nanocraft Softgels Review
Are you a fitness enthusiast? If yes, Nanocraft CBD softgels are the products to go for. In this Nanocraft softgels review, you'll see how it supports healthy and active lifestyles with its stress-relieving and anti-inflammatory properties.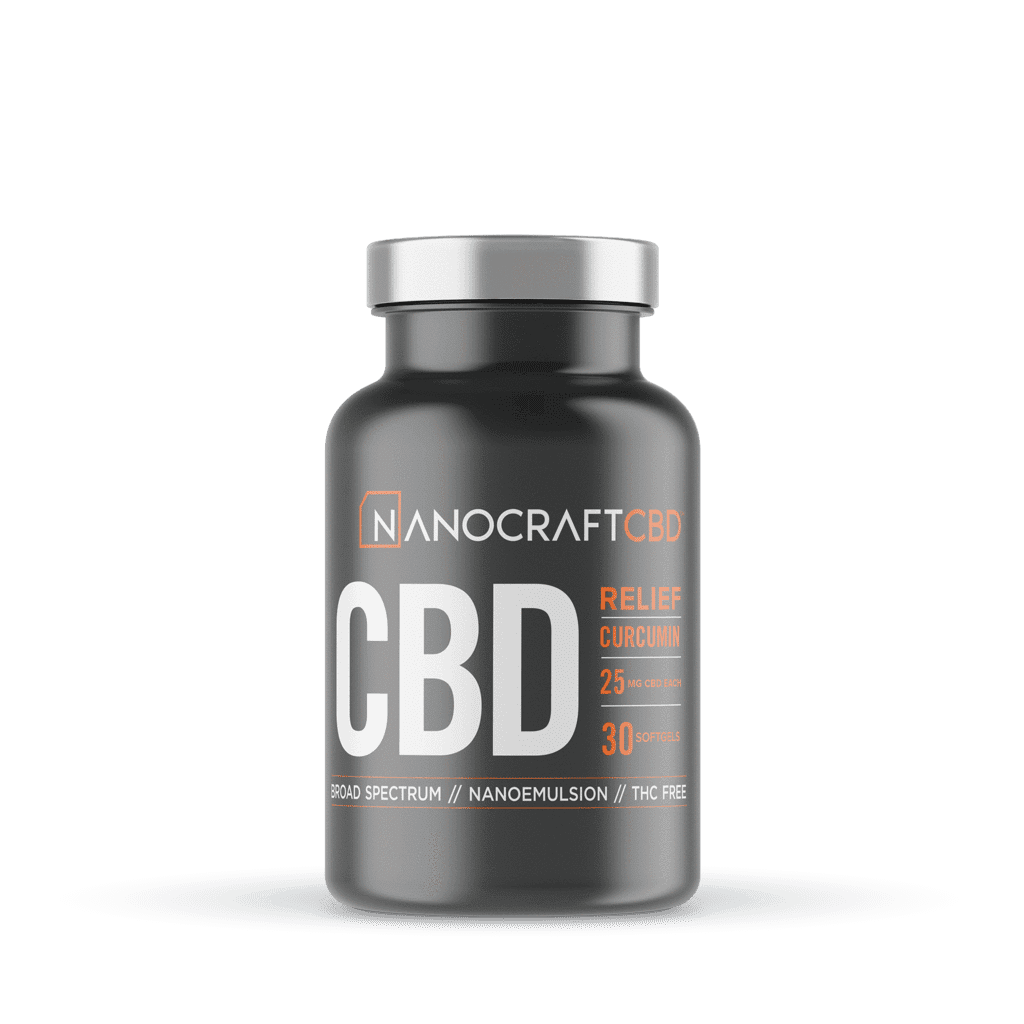 Distinctive Features
Caveat: These CBD softgels should be used as a supplement to support muscle recovery, manage stress, increase mental clarity, and improve the sleep cycle.
The brand's selling feature for its softgels is the patent-pending "nanoemulsion" or Nanotechnology. Because of this feature, the product's bioavailability raises to five times the conventional CBD products.
The softgels hold hemp oil particles rich in phytocannabinoid and are 25 nanometers microscopic, allowing smooth and efficient absorption in the bloodstream.
Find it interesting? Let's dive in further.
The pharmaceutical grade softgels have broad-spectrum preserving all the health benefits of cannabinoids and terpenes except THC. Thus, they are especially recommended to professional athletes.
Moreover, Nanocraft offers CBD softgels in three different variations. Each of these forms offers 25 mg CBD per capsule, which is a medium potency spectrum. These forms include:
A general CBD softgel formula, which is for individuals who want to get rid of post-workout inflammation
Curcumin added formula for enhanced pain-relieving and muscle recovery process
Sleep-promoting formula containing melatonin, which is best if you are dealing with issues like jet lag or insomnia
Do you have concerns over the CBD soft gels' quality? Nanocraft provides a Certificate of Analysis to its users after independent third-party testing. This certificate guarantees effective screening for heavy metals, pesticides, microbes, and residual solvents.
Nanocraft CBD Softgels are packaged in small, portable jars that you can place easily in your drawers, handbags, or gym lockers.
The best part: With all the advanced technology and incredible features, a single bottle of Nanocraft softgels is available at an amazing price of $ 79.99 only. Thus, the average cost of the softgels is around $ 0.10/mg, which is quite reasonable in contrast with other brands.
Conclusion
The Nanocraft softgels is a well-researched and well-formulated product, offering value for treating chronic ailments, without posing any threats or exposure to harmful chemicals' side-effects.
They are vegan-friendly and pure and can be used safely, even if you are on a strict diet or have allergy issues. Because of this quality, it has won the heart of millions of customers worldwide.