Hemp Bombs review – the hemp industry is slowly but surely growing as more countries are legalizing hemp products. The issue of cannabis is still a widely discussed topic in the world. Sadly, most people who advocate against these products don't know anything about them.
Moreover, the health effects of CBD have been scientifically confirmed, and even more studies are being conducted as we speak.
Hemp Bombs, a domestic company that makes CBD products, caught our eye one day, so we decided to take a closer look. We can safely say that they didn't disappoint, which is why we're doing a Hemp Bombs review to show you why this company deserves the attention.
About Hemp Bombs
Hemp Bombs is a CBD oil manufacturer based in the Tampa Bay area, Florida. What sets them apart from other brands is that they run their own production; they do it all — from extracting and processing CBD to bottling.
It's rare for a company that makes CBD products to be so focused on optimizing production and quality. Sadly, some companies just buy from shady manufacturers and slap on their brand label.
While we were trying to get more information for this Hemp Bombs review, we were amazed to find out that they source hemp strictly from organic farms in Europe. They import from Europe because their hemp is subject to strict rules and regulations. As a result, European hemp is believed to be a lot purer and perhaps even more potent than variants grown in America.
Furthermore, all Hemp Bombs products are, in contrast to those made with a full-spectrum extract, made with 99% pure CBD isolate. Some people think that pure CBD products are bad because some studies have shown that CBD works better when taken alongside other natural cannabis compounds. Whether this effect is real or not, one of the greatest benefits of using pure CBD isolate is that there is absolutely no way we can ingest any THC. All Hemp Bombs products have 0% THC. So, there's no reason to worry if you have a scheduled drug screening at work.
Hemp Bombs Products And Prices
We just can't write a proper Hemp Bombs review without taking a look at their product pricing. They offer a huge range of CBD products that are relatively affordable. But, if we take the quality of these products into account, they're well worth it.
We must note that all of their products are CBD isolates because the 0% THC allows them to ship to all 50 US states. As a result, Hemp Bombs can reach out to a much bigger audience.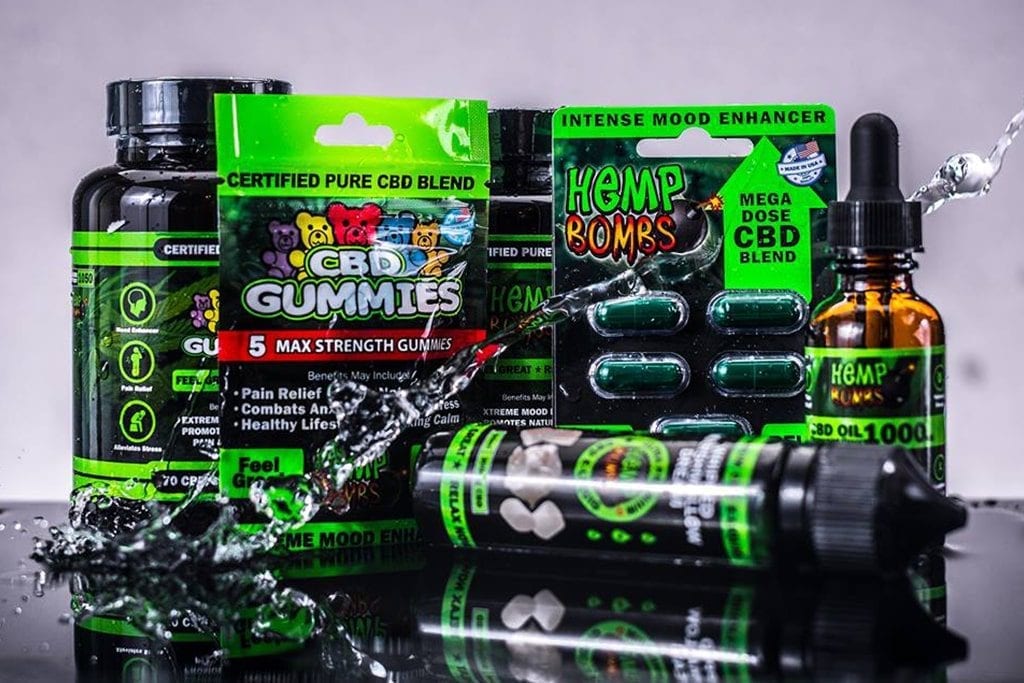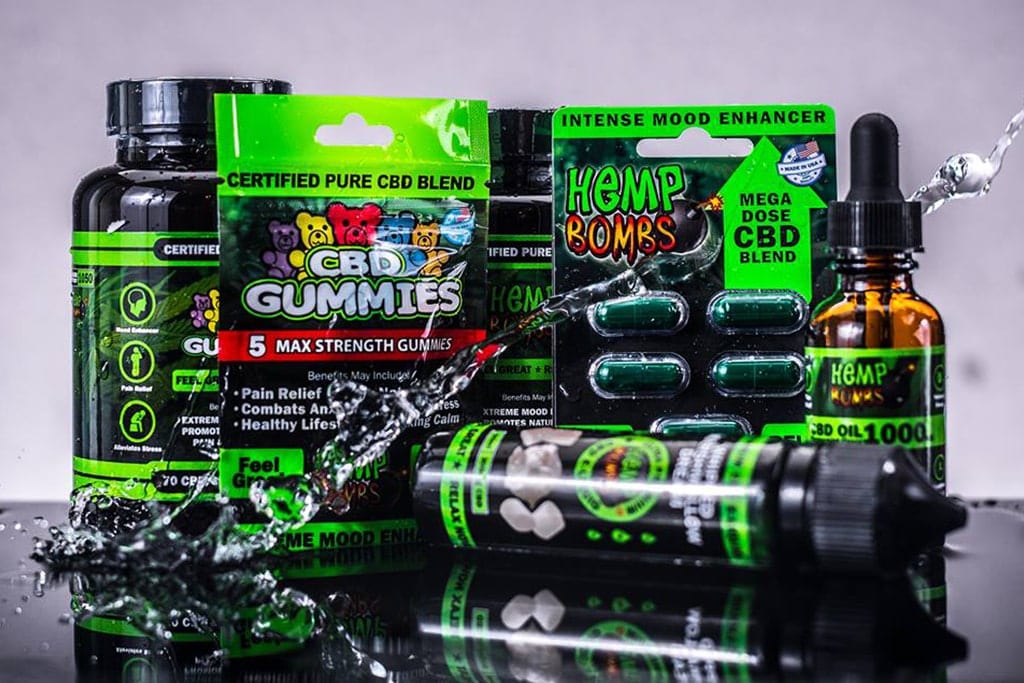 Official Website: www.hempbombs.com

CLICK FOR BEST PRICE
Some of the most noteworthy products from Hemp Bombs are:
CBD Vaping Products
What good would a CBD manufacturer be without a full assortment of dedicated CBD vaping products?
Hemp Bombs boasts an incredible range of vape products like vape juice, CBD liquids that we can add to other vape juices, and even pre-filled vape tanks. Also, their vape products come in 11 different flavors!
The prices for these vape products range from $14.99 to $299.99, depending on the CBD potency. Furthermore, all products come in 60ml bottles, and they also let us customize our flavors and potencies in their 4 and 10-pack variety bundles.
CBD Oil
The Hemp Bombs CBD oils are available in peppermint and watermelon flavors and come in 30ml bottles. Prices range from $49.99 to $299.99 for a staggering 4000mg CBD concentration.
CBD Gummies
Hemp Bombs CBD Gummies are just like ordinary gummy bears, but with the CBD extract. They come in 5-count bags at $14.99 and even 60-count bottles at $99.99, Each gummy contains 15mg of CBD, but they also sell Extra Strength gummies with 25mg of CBD at $139.99 for a 60-count bottle.
CBD Capsules
The Hemp Bombs CBD capsules are a great substitute for gummies if for some reason we don't like the taste. They are absolutely identical to the CBD gummies we just mentioned, with the same prices per pack and CBD concentration.
CBD Pain Freeze
The Hemp Bombs pain freeze ointment is great for people with joint pain and muscle soreness. The biggest benefit of using this ointment is that we don't have to wait for the CBD to go through our whole digestive tract in order to be effective.
The Hemp Bombs Pain Freeze comes in either 1oz or 4oz tubs. The 1oz tub is $14.99 and has 50mg of CBD. Meanwhile, the 4oz tub costs $39.99 and comes with 200mg of CBD.
Hemp Bombs Max Chill Shots
The Hemp Bombs shots come in small 2oz bottles, and they're super popular among people with anxiety and sleep issues because of their 75mg CBD concentration. The price per bottle is $14.99, and we can also buy a pack of five for $59.99.
CBD Syrup
The CBD syrup from Hemp Bombs is a fantastic and unique product that works great as a supplement to our diet. We can either take it on its own or mix it in any drink; it's incredibly easy to use.
The syrup comes in 4oz bottles with different potencies and prices ranging from $14.99 for 100mg, $49.99 for 300mg, and $99.99 for the ultra-strong 1000mg CBD concentration.
Hemp Bombs Review Summary
Now that we've covered the basic information and product pricing of this company, it's time to summarize our Hemp Bombs review. Let us again take a look at the small things that distinguish this brand among its vast competition.
We like that Hemp Bombs made it their goal to provide the finest quality CBD products on the market. We also like how they focus on originality and a fully optimized in-house production.
Another thing worth noting is the potency and purity of their CBD products. We just couldn't find another brand with such a potent line of products. The Hemp Bombs oil, for example, comes with 4000mg of CBD.
However, a possible downside to their amazing products is the fact that they use pure CBD isolate. We say "possible" because scientists still haven't proven that CBD works better with other cannabis compounds. But, the fact that their products are pure also means that we don't have to worry about any THC getting into our bloodstream.
Pros
Reputable company
Top quality products
Legal in all 50 states
Won't make you feel high
Free shipping on all order over 75$ in the United States
Weekly CBD giveaways and discounts
Cons