Do you know what is more intriguing than a Starbucks or a strong homemade coffee for your tired and sluggish brain?
Definitely, a focus enhancing beverage by CBDfx! It instantly uplifts you, increases motivation, and stops you from procrastination. If it is of interest to you, here is my take on CBDfx chill shot review.
Pros
Effective
Good price
100% organic
Also reduces stress & cortisol levels
Cons
Blend of hemp, CBD & L-theanine
CBDfx Chill Shot Packaging Details
Its packaging looks like a typical energy drink, but it is better than an energy drink, of course. CBDfx chill shot contains 20 milligrams of full-spectrum cannabinoid (CBD) and 200 milligrams of L-theanine.
This formula affects your body differently than a regular energy drink or a black coffee. Rather than amping your body with caffeine, this energizing liquid supplement helps in clearing your cluttered thoughts, leaves you focused, and provides you with a boost of energy without any side effects.
Moreover, L-theanine, an amino acid commonly present in green tea and black tea, enhances the body's defense system and reduces cortisol and stress levels.
List of Ingredients
CBDfx chills shot is a 100% organic cannabidiol infused drink, and it contains:
A proprietary blend of – CBD (cannabidiol) hemp oil and L-theanine
Vegetable Glycerin
Propylene Glycol
Other ingredients include:
USP water
Soy lecithin
Natural citric acid
Sucralose
Sodium chloride
Gellan gum
Sodium benzoate
CBDfx Chill Shot Review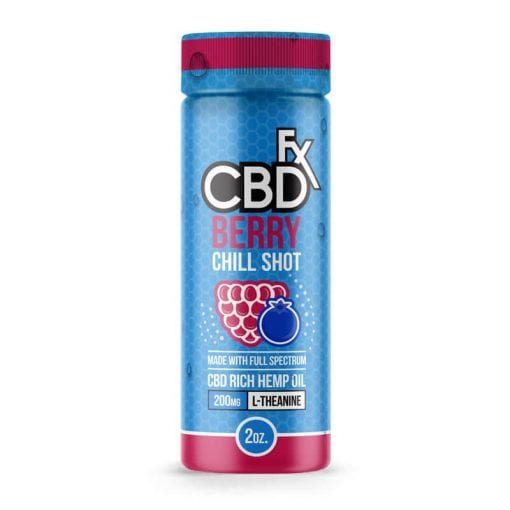 Several online reviews suggested putting the shot in the refrigerator for 30 minutes before drinking. After chilling the product for the recommended period, it was the time for the truth. Either the product will sink or swim. Let's find out.
Before guzzling the concoction, make sure to shake the product and then crack it open. This zero-calorie beverage has a citric smell and a lemony punch. You will note the difference if you are an avid energy drinker and have tasted red bull, Gatorade, monster, or other energy drink.
The flavor of this product hits wonderfully. Around 20 to 30 minutes, the aftereffects of chill shot kicked in.
Its effects are delightful. It uniquely invigorates you and provides a quick boost. In contrast, coffee does perk up the body, but it does not clear the distracted mind, and it also increases anxiousness.
However, after drinking this beverage, my sluggish mind was clear, and it helped me to regain my mental peace, focus, and productivity.
To my surprise, it does not race your heart, but the brain works way faster than I imagined. This product works like magic and can transform your average workday into a most productive day.
Moreover, the chill shot effects subside after 1 ½ hour, and after 3 hours, you can only feel the remainders of its impact.
Furthermore, after four hours or more, you will not experience the crashing results of an energy drink that you usually get after drinking beverages full of sugar and caffeine.
Flavor Profile
It has a delicious flavor of fresh lemonade, but most people do not agree with it. Moreover, this product gives a hint of earthy hemp flavor in the background, but it does not overpower the lemony taste.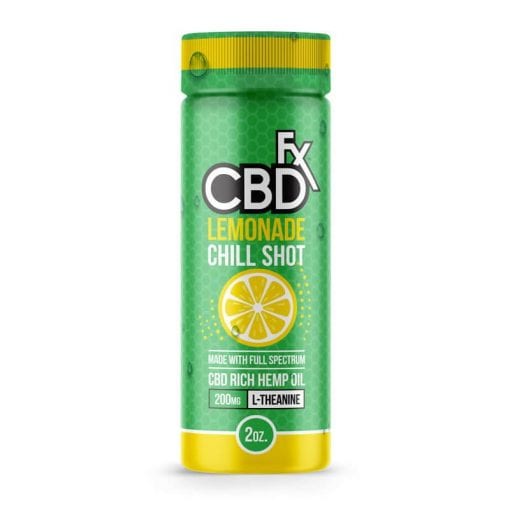 Furthermore, the chill shot has a natural citric smell, but it is not overbearing.
CBDfx Chill Shot Facts
Here are some facts about this product.
It provides 20 mg of CBD / 2 ounces of the bottle
It contains 200 mg of L-theanine / 2 ounces of the bottle
The chill shot is an entirely organic liquid supplement
This product is rich in terpenes and cannabinoids
It is cGMP certified
It is made in the US
Wrapping Up
CBDfx chill shot delivers CBD in a delicious lemony way. As compared to other CBD products, chill shots are not cheap; however, they are a great option to obtain a clear and calm mind, a boost of energy, and productivity.